The craze for poker has led to the production of various poker movies. Out of these, some were executed quite nicely, whereas some others received hate from the audience. You can see various poker videos about Texas Hold 'em, 7 Card Stud, or 5 Card Draw. These represent poker hands and tricks which are fun to watch. If you are a poker fan, you must have seen Rounders, there are many other masterpieces too.  
Top 10 Poker Movies Of All Time
1. Rounders (1998)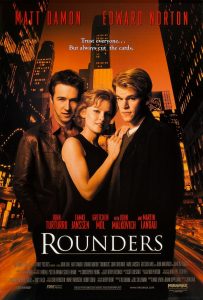 The masterpiece was released in 1998. Its star cast includes Matt Damon, Edward Norton, Gretchen Mol, and John Malkovich. It was the first-ever movie made on Texas Hold 'em, the most popular poker game.   
The movie narrates a simple story about a young gun Mike McDermott played by Damon, who dreams of becoming a professional player and changing his fate in Las Vegas. He was shown to lose his entire role in an underground high-stakes game against Teddy KGB, played by Malkovich. This is one of the best poker movies which is filled with many twists and unexpected turns. It is almost every poker fan's favorite movie and has won many hearts.  
2. The Cincinnati Kid
(1965)
Being one of the oldest and best poker movies, it features Steve McQueen and Edward G. Robinson. The movie resembles Rounders a lot. It is focused on Five Card Stud. This poker game used to be popular at that time.  
The plot of the movie unfolds a plot about the young kind who aspires to show herself as the best poker player, as portrayed by Steve. He gets into a match against Lancey Howard, who has the title of being the best player. The movie is set in 1930s New Orleans. The viewers reviewed this as one of the must-watch and best poker movies.  
3. Molly's Game (2017)
The movie was released in 2017 and is rated as one of the most realistic poker movies ever made. Molly's Game stars Jessica Chastain, Idris Elba, and Kevin Costner. However, movie critics have reviewed it with comments like an exaggerated script and halfway good and halfway bad.   
It is a true-event-based movie on the story of Molly Bloom, also known as the "poker queen." She used to run private high-stakes games featuring many Hollywood celebrities, business professionals, and popular players.  
4. All In: The Poker Movie (2009)
It was released in 2009 and is a documentary unlike all others on the list. It is written by Douglas Tirola and has won many awards.   
The film narrates the story of poker itself starting from its beginning, from Moneymaker's epic 2003 win to the infamous Black Friday. The movie unfolds multiple unacquainted facts about the game.   
5.

High Roller: The Stu Ungar Story (2003)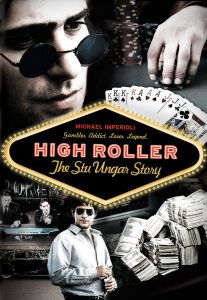 The movie was released in 2003, and it is known to mark an era in the poker world. The screenplay showcases many poker cards being played in the movie, making it worth watching.  
High Holler depicts the story of a kid named Stu Ungar and his rise and fall from his early rummy playing days to dominating Texas Hold 'em days. The movie ends with his unfortunate demise. Stu Ungar was a self-destructive person, so the film has been criticized by many for glorifying degenerate behavior.  
6. California Split (1974)
This one of the best poker films was released in 1974 and has featured George Segal and Elliott Gould as the star cast, playing the characters of Bill and Charlie, respectively.  
The movie represents how the gambler's life can turn degenerative and force you to think before making any choice in your life.  
7. The Grand (2007)
This comedy was released in 2007 and was directed by Zak Penn. It features a very decent star cast, including Ray Romano, Woody Harrelson, Chris Parnell, Jason Alexander, Dennis Farina, and a few others in supporting roles.   
The plot of The Grand focuses on a group of players who gathered to play 10,000,000 poker tournaments at the Golden Nugget. The actors revealed that they actually played poker on the sets. However, the critics disliked the acting of its star cast and found it over the top and fake.  
8. Maverick (1994)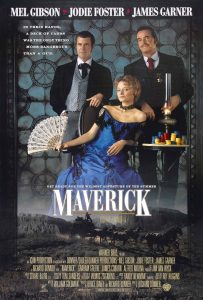 The movie was released in 1994 and cast Mel Gibson, Jodie Foster, and James Garner as main lead roles. It has a light-hearted plot that revolves around poker and has various funny elements in it.  
The plot is very light-hearted and is an action-comedy involving gambling. The story depicts how Bret Maverick, played by Gibson, enters a winner-takes-all poker tournament. It is defined as a good watch for all poker lovers.   
9. Lucky You (2007)
It earned a place in the best poker movies category as critics reviewed it as a must-watch at least once in your life. The movie was released in 2007 and has many scenes showing poker games being played as expected.   
The movie revolves around the story of Huck Cheever, played by Eric Bana, son of L.C. Cheever, played by Robert Duvall, who is looking to make big in the poker world. The movie ends up with both of them competing against each other. The screenplay represents poker action scenes mixed with some family drama.   
Besides the main lead, the movie also features Berry Greenstein, Jen Harman, and Sammy Farha, so Lucky You is a must-watch.  
10. Deal
(2008)
This decent poker flick was released among the audience in 2008. Deal is a decent flick starring Burt Reynolds playing Tommy and Brett Harrison as Alex. The story starts with how a professional player, Tommy, tries to teach young Alex the game and its tricks to make money and gain fame in the process. 

Conclusion
These are some of the best poker movies. Some are action comedies, while some portray emotional family drama. These movies have heaps of hand poker shots and some tricks that you can learn from them. Different movies focus on different poker games, be it short deck or Texas Hold 'em. If you are a true poker fan and enjoy watching it, watch these movies as all are recommended by critics as a must-watch at least once in your life.